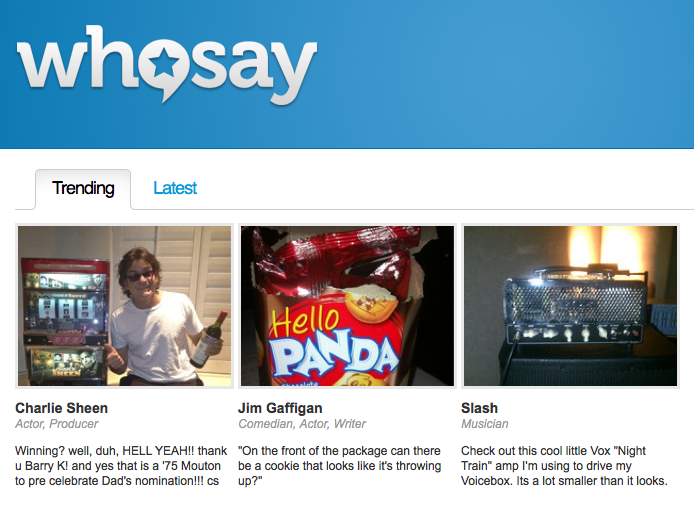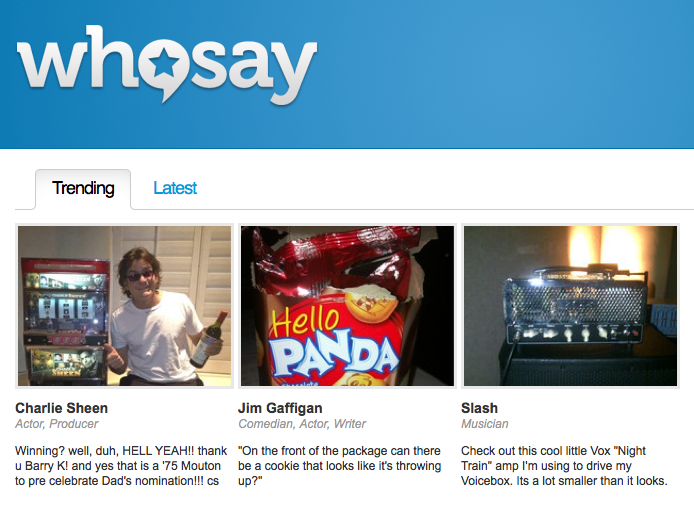 So every celebrity under the sun seems to be making their way to WhoSay, and the general public is still saying Who What?
Ok, you've likely heard of the site if you pay any attention to celebrity tech news. And it seems the smartphones of the rich and famous (and the things they do with them) are a story unto themselves sometimes.
I've had more than one person ask me recently about the celebrity, invite-only site, and I wasn't really sure what to say.
I at first thought it was the latest trendy website for in-the-know (and those who want to be) celebs to catch some of the limelight that Ashton Kutcher and @Oprah garnered when they became Twitter's trendsetters in the younger days of the microblog site.
Now even gray-haired media mogul Rupert Murdoch is tweeting, so what's a standout celebrity to do to set himself apart?
WhoSay, of course. Or so, I thought.
On second glance, I realized that the idea behind WhoSay is actually one of copyright and content protection for artists. Now when Jim Gaffigan tweets a picture of himself, he owns the rights to the photo, instead of sharing the rights with a company such as TwitPic or Plixi, popular Twitter picture sharing sites.
And the site has gained legitimacy fast. In December, the Associated Press announced a partnership with the site. Find more on that here.
So what do I think of WhoSay? I think it's a first step in organizing an often cluttered social media world. And in reality, the site is just a series of websites for celebrities. First celebrities, then the public. Oh wait, we have that already. Only I don't have coffee mugs with my famous catchphrases printed on them.
Until now, us commoners have been allowed to walk with the rich and famous, with the exception of that little blue "Verified" stamp on their profile. Now, we'll have to do so knowing that when we click that picture of Steve Martin swimming, we'll likely be taken to WhoSay.
For the most part, social access to celebs won't change, thank heavens – the celebs you love will still be accessible just an @ sign away. But they're now free to tweet, blog and YouTube a little more freely knowing that their content is protected by copyright.
And for their fans, that's probably a good thing.
Related Posts