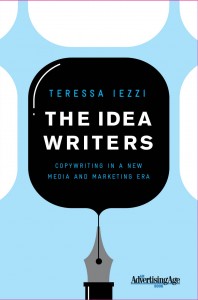 The Internet forever changed the method of how we buy and sell products and services. That's not news.
But for the people who must creatively sell those products in this distracted, fast-paced, networked advertising landscape, it has created many challenges.
In her book "The Idea Writers," writer Teressa Iezzi discusses that new reality for creative writers working in the advertising biz. In a nutshell, copywriters need to know how to write a whole lot more than a headline and a snappy slogan.
I'm about two-thirds of the way through the book, subtitled "Copywrighting in a new media and marketing era," which was published in 2010. It is aimed specifically at those copywriters working in advertising.
However, the book is a worthy read for anyone own a business of their own or who writes anything for a living: newspaper copy editors, web ad creators, bloggers, and the list goes on. If you have to write anything for a living,"The Idea Writers" offers plenty to consider when crafting strong prose – be it an exclusive webisode or a cereal box game.
Iezzi paints the modern landscape for writers in a cluttered ad world: Where once whiskey-swilling ad creatives would fine-tune the perfect TV-ready slogan for an automobile, airline or toilet paper, now they're called on to use their creativity to also tell a story, one that can include the creation of a web site, an app, a video game, a storefront, a series of web videos or a combination of all of the above. And the list goes on.
The best part is the book references some incredible viral ad stories that I recall from Internet days past – the BMW Films series and Subservient Chicken. These are just a couple of the creative efforts that Iezzi cites in the book, which is a must-read for all advertising, marketing and social media students. I'm planning to add the book to my curriculum for "Social Media Explored" at Western Iowa Tech.
So why should the average Joe Marketer or Cindy Copywriter care about what Iezzi has to say?
1. The book's mantra – the world of selling a product has forever changed – is dead on.
2. If you want to think creatively, you need to start thinking more outside of the box than you ever have (unless you are this guy). And the book offers a wealth of exemplary creative ideas.
3. The time is now. The businesses that do not adapt to a changing ad landscape by effectively telling their story, curating the conversation and building a network of die-hard customers, will soon lose.
Now I'm off to finish up the final couple chapters.
Tell me what noteworthy, fascinating or interesting non-fiction books you are reading.
Related Posts