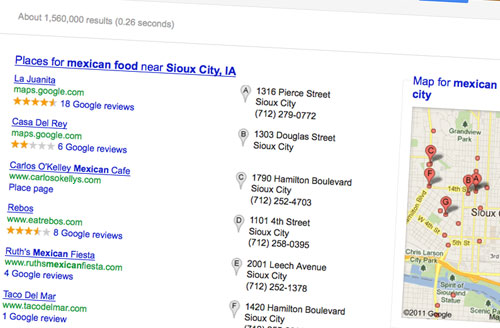 It seems obvious, but the keys to search success on Google are changing every day. And much of it is being driven by social media channels.
Great content, consistent links and targeted keywords are the keys, more than ever, to getting people to see your web site, and in turn become new customers.
A new eye track survey from SEOmoz shows what users look at when they visit Google for search. It's pretty simple: we gravitate to the "Places" listings, and then relevant content links. Targeted keywords and social messages push our pages to the top of the list over time.
Social media mentions now rank right up there next to other content, meaning that when there's a buzz about your product on blogs or social media, it's near the top of search. And that's a good thing for businesses who are creating a conversation about their brand and vision on social media channels now.
But those aren't easy goals. They take time, a consistent message and dedication to making search a priority in your organization. They also consume resources, which are tight these days. But developing a social media strategy, even a small one, should be a priority in 2012.
There's more to the study, which you will find here, but I don't want to give it all away. What is your company doing to create a buzz about your passion? Share your story here.
Related Posts