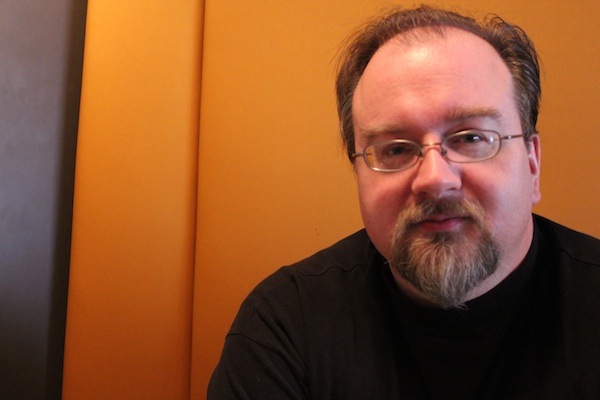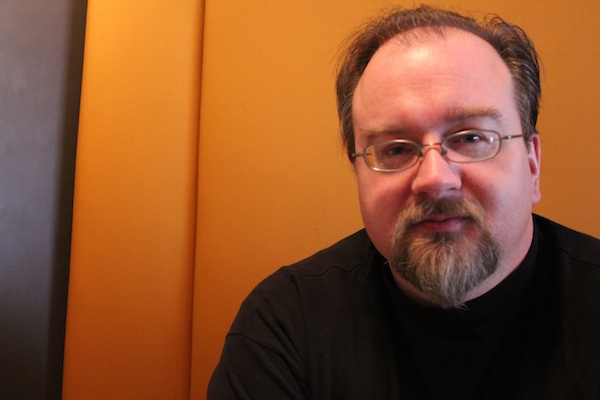 This is not a review of the book "No Bullshit Social Media." I have read only the free download of the first chapter of the book, and will likely read the rest this weekend after I get a copy at the Siouxland Social Media Conference, where author Erik Deckers (above) is speaking. I may not.
So does that qualify me to write a review? No. Instead, this is the story of my dinner with Deckers, author of No Bullshit Social Media. However, if you want to know more about the book's author, keep reading.
This is one of those how-we-met-on-Twitter stories. And it started a week ago when I tweeted @edeckers to ask if I could do a short Q&A about his work, his book and social media in general.
Deckers promptly tweeted me back and shortly thereafter, I sent him the questions, he replied and I published them. Find his 5-question Q&A here.
That's where the story started. Deckers had mentioned in his answers that he would likely use social media to find places to eat, drink and visit while he was in town. He did. He hit Pierce Street Coffee Works based on an online rating, Book People (he's a writer) and who knows where else after arriving from Dallas.
I caught up with him for dinner, and he was hiding in a quiet back corner booth at McCarthy and Bailey's. He was drinking a Boulevard Wheat beer and had a slick black notebook for jotting down ideas. He had already checked in on Foursquare, and said meeting the bar's virtual mayor, Eve, would be cool. I agreed.
Deckers is the real deal. And this is why I know that the title of his book (which he co-authored with Jason Falls) truly is about the basics, or in their words, No Bullshit.
He works for a living, usually writing, (sometimes in coffee shops) and he loves what he does. He travels the country, often on his own dime, speaking and promoting his book (it's his third) and seeking inspiration. He doesn't have a secretary, car service or an expense credit card.
And even though he works professionally as a blogger and columnist, he hasn't let a little media attention go to his head. Whether he's blogging about the hazards of a Halloween costume, writing an award-winning play (he did that) or tweeting updates about traveling in Indiana, his down-to-earth persona shines through.
He's not spreading some fanciful marketing glitter to woo over his clients, he's doing. (Plus he likes beer-battered bacon.)
That to me is huge in this day and age. The doing, not the bacon. For the record, I also think that bacon is huge. Back to my point: Far too many people are telling others what to do in the social media space, without ever having done much of it for a living.
I've read too many social media books to count (and there are hundreds more) and they are starting to blur together.
Just meeting Deckers, I know his message is pure, from the heart and spoken from experience. He may not reach the acclaim of social media champions Chris Brogan or Gary Vaynerchuk (who will join Deckers for the conference tomorrow),  but he loves his work, and still practices it every day.
If that seems like Bullshit, then move on. If not, pick up his book and get busy.
I'll be out buying a Moleskine notebook to take more notes.
Related Posts